Jun

11
Tags
Related Posts
Share This
SEX026: Omid 16B – Sequential 003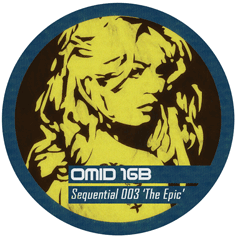 The sun's blazing down on The City. Temperatures have even been topping those in the Med. Yet Omid's new release – 'The Epic' – is still giving us goosebumps. Making the hairs on our necks stand to attention. Indeed, not since Omid collaborated with Morel on 'Escape (Driving to Heaven)' has he committed to such a 'hooooj' and ambitious choon. Defining a massive new moment for SexOnWax in 2009, 'The Epic' is the past, present and future, combined. Honest, hands up, heads down House Music – a moment stretching out into infinity….
Just listen to the instrumental Dub Mix. This monumental wave of sound rises fiercely up out of nowhere to reveal an insane rip current of beefed up beats and bass. The synth pads surge ahead, with percussive embellishments supporting the ride. It's an adventure of box-your-head-in proportions. And how the bottom end moves with the piano chord progressions is something else approaching a symphony. The irresistible 'piano loops of love' that explode between your ears after the beat drops and the bowel-rumbling bassline returns. The arrangement of this polyrhythmic mind trip positively swaggers. Cruising through eight and a half minutes with apparent ease.
Alternatively, you can head for the Vocal Mix, where the song is at its most melodious, harmonious and uplifting. Here, you are welcomed onboard by growling synthesiser pads and a crushing kick drum. The journey begins… and the excitement grows. Guitar licks and a rippling bass line, recorded live by Omid, add muscle to rhythm and nurture the groove, always The Groove. The flow continues. Introducing the lilting vox of French chanteuse Anysa. Her dreamy delivery comes straight from the heart, as we always appreciate here at SOW. Needless to say, cooking in the heat of all this epic-ness are some bionic builds and rapturous hooks. All together gathering a cosmic momentum that we reckon will have us reaching for the sky, all summer long!
What else to say but 'The Epic' is here, as large as life, ego-free and definitely built for an eternity!