Omid 16B – Sequential 001
SEX024. Release date: December 22nd, 2008
'The Tone' | 'To Run To' | 'Dub the House'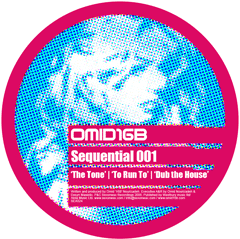 SexOnWax proudly presents a new three-part series called Sequential, produced by Omid 16B. Sequential is a natural move for a globetrotting DJ living a life less ordinary and this SexOnWax 'ménage à trois' lays it down with three awesome new 16B productions: 'The Tone', 'To Run To' and 'Dub the House'.
First up, 'The Tone' wants for neither warmth nor funk with its insatiable beats and portly XXL b-line. Here housey hi-hats and intimate atmospherics are locked down for an uplifting sequence that draws you deep into the heart of 'The Tone', where it's all about those rolling rhythms and an ever-growing groove.
Next, 'To Run To' is a testament to Omid's flair for giving all production elements space to breathe, build and breakdown. A whirling dervish of a bassline is savaged by fierce banks of synths, elevated by haunting minor melodies and then driven wild by stacks of percussion to create a massively powerful wall of sound.
Finally, the throbbing, nu-swing, freebass arrangement of 'Dub the House' sounds uniquely like the 6400 Crew on Yoshitoshi, on ketamin-n-n-n, chasing Giorgio Moroder to meet the Belleville Three in the 21st century, in an elevator, with 16B. Heavy!
Phwar, what a package, if we may say so ourselves! Sequential 001 follows on from brother Navid's EP, part two of Omid's album, and is SexOnWax's third release of twenty zero eight – just in time for the party season!
Sasha: Really loving "The Tone" am playing it out!
Desyn Masiello: To Run To was a highlight at our recent gig at Moonpark Buenos Aires, rocking 5000 people with its dark and sexy growl…. and "The Tone" has been caned so much on our recent SOS tour it has become more or less the SOS theme tune!
Sharam from Deep Dish: Old skool style… loving it!
Behrouz: Already playing them over the weekend and loving it, teaching them all about the Groove Baby Yeah!!
Lars from Funkdvoid: Wow all three of these are fantastic! Great release for Sexonwax….thanks! L
Ed2000 (Berlin): This is outstanding. I love the early days of house and acid feeling in there. But it doesn't sound retro at all! Deep sexy and evocative. Really cool (as an old deep house head 87 to 91 or so). Full support 8/10 radio club and lounge, also charting in the top 5 (dcc German dance charts for example ). Big thanks!
Proton Radio (USA) – Danny Graham: "To Run To" was on my Proton Radio show on Tuesday. Crackin stuff! Anthony Pappa played the other 2 on his Proton show I noticed.