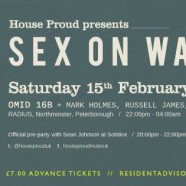 Feb

04
Tags
Related Posts
Share This
House Proud presents SexOnWax
House Proud are pleased to welcome back SexOnWax Recordings for another showcase with Omid 16B fresh from his tour in Japan leading the way.
"Some DJs and producers have their finger on the pulse – Omid 16B is the pulse. Music runs through his veins" – DJ Mag
Omid Nourizadeh also known as Omid 16B, is a DJ whose passion for cutting edge electronic music is unrivalled. As a DJ and producer, songwriter, musician and label boss, Omid has forged a unique and prolific career as one of the world's most talented and respected musicians and producers.
He's much regarded as one of the leaders who pioneered the tech house movement back in the early nineties, alongside the likes of Carl Craig, Vince Watson, Craig Richards, Mr C, Steve Bug and Francois K .
The label has been Sexing it up since 2002, Sexonwax Recordings was born free in a basement, deep in London. A label of love that was conceived by DJ/producer maestros Omid16B and Desyn Masiello in order to share music that's close to their hearts, Sexonwax naturally remains an underground entity to this day.
Over five years and more than 20 releases down the line, relentlessly innovative, the label has always nurtured rare and irresistible gems from a family of friends. These included the likes of Mr C & Tom Parris, Danny Howells, The Idiots, Solar Plexus, Sycophant Slags, and Mashtronic – not to mention Omid and his myriad monikers.
Lineup
Omid 16B
Mark Holmes
Russell James
Drew Tilney

Official pre-party at Solstice w/ Sean Johnson 20:00 – 22:00
More info:
https://www.facebook.com/events/679767785399139/
www.facebook.com/houseproudmusicuk
www.twitter.com/houseprouduk