SEX028: Omid 16B – Paralexia EP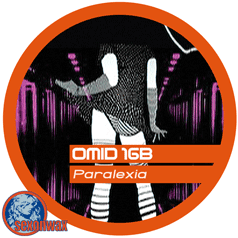 Summer is on the horizon, peeps. It's time to pump up those sounds. So open your box as SexOnWax returns to the source. Staying true to our name, our essence. Presenting you with a very special digital and vinyl EP for your aural excitement only. First up is the massive toon of four-track goodness, Paralexia. Feel our groove. Really, what could be sexier?
Despite the name there can be no misapprehension of what's going on here. The patterns of Omid's Paralexia see fractal flurries of melody sprinkled with insane piano tinkles. These ivories are driven upwards by solid synth gold and old skool drum builds. With a whirling breakdown that feels like a waterfall crashing over your head. It all adds up to a proper prolonged derangement of the senses. So much so that the party people of Miami went ballistic when it was promo'd by SOS during their set at DJ mag's pool party. Check the link.
Show us yer shimmy! Cos Bites Without Teeth* is more of a builder, folks. And if the beats don't grab 'n' shake you in their grimy grip, then the wonky bass will. Claps like a funker. Phases like a wrong 'un. Builds like a bastardo. It's food for thought…
A bonus here from SexOnWax's popular April release in the form of Lilly and Poppy. Except this time Mr O brings a Vinyl Dub to the table: a reliable beauty with a dramatic and yet delicate bouquet 'du jour'. In fact, it's almost as epic as 'The Epic'!
So there you go, guys. Paralexia is a real package. Boasting more beef than Argentina, more heat than technotonics and more eruptions than Iceland. All of 'em sure-fire floor shakers with an ultra-modern/vintage sound, best served with sunshine and a smile. Feeeel the difference.
Track listing Vinyl:
A1: 'Paralexia' (Original Vinyl Dub)
A2: 'Bites Without Teeth' (Vinyl Dub)
B1: 'Lilly and Poppy' (Original Vinyl Dub)
B2: 'Can't Deny the Three' (Original Mix)

Track listing Digital:
A1: 'Paralexia' (Omz Club Dub)
A2: 'Paralexia' (Original Piano Dub)
A3: 'Bites Without Teeth' (Omz Club Dub)
A4: 'Bites Without Teeth' (Late Night Dub)
*For the lovers of Bites Without Teeth there will be a tasty vocal mix feat. Sophie Barker ready very soon. Pls get in touch with [email protected] for more information.
[Full of Love. May contain nuts]