SEX027: Omid 16B – Lilly and Poppy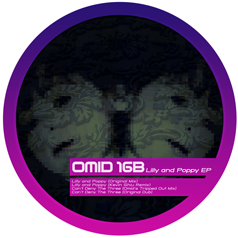 Omid 16B -Lilly and Poppy (Original mix)
Omid 16B -Lilly and Poppy (Kevin Shiu Remix)
Omid 16B -Can't Deny the Three (Omid's Tripped Out Mix)
Omid 16B -Can't Deny The Three (Original dub)
Download available to buy: April 12th
A brand new decade brings a brand new track from SexOnWax. Recently debuted on the much applauded SOS Ministry of Sound compilation, Omid's new track 'Lilly and Poppy' is, typically, the kind of track that will never tire. For sure, the kind of track that will never grow old, or ugly. The kind of track that will never feel out of place, whether it's heard at home, in a club, or even if it was re-imagined within a movie.
In fact, in trademark 16B style, it's teeming with cinematic qualities. Elevating. Heart-fluttering. A gripping narrative gyrates between minor and major keys, melancholy stabs and peppy, piano-driven builds.
A romance that grows, organically, layer upon layer, with synth pad progressions and crunchy, punchy beats combining to strike an emotional chord. Clocking in at over 10 minutes, the dimensions are pretty grand, in all respects, as 'Lilly and Poppy' makes 'Mission Possible', because we can!
The remix comes courtesy of Canadian producer Kevin Shiu.
Based in Vancouver, Kevin has been at the forefront of club culture since the early '90's. His signature style ranges from deep tech house through driving techno and remains true to the underground sound that first inspired him: a deep, moody sound with pounding percussion and a mighty hypnotic groove.
Plus 2 bonus tracks (as featured on the recent compilation 'MOS presents SOS')
Omid 16B 'Can't Deny The Three' (Omid's Tripped Out mix)
Omid 16B 'Can't Deny The Three' (Original Dub)
Much Love,
SexOnWax 2010