SEX025: Omid 16B – Sequential 002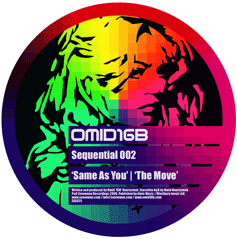 February 2009, London: SexOnWax is all about propagating club music of distinction – and quality, eschewing passing trends in favour of a passion more timeless and pure. It therefore brings us indescribable pleasure to announce the latest addition to Omid's fresh, new Sequential series. Yes, as the blizzard of the world continues, SexOnWax flies high into 2009 on the wings of Sequential 002 by Omid 16B.
Sequential 002 encompasses two very different tracks: 'Same As You' and 'The Move'. And these, in their various incarnations, represent the different sides of Omid's psyche as well as the depth of his musicianship.
'Same As You' strikes out as an impressively fluid arrangement, where no (non-original) samples were used during production, whether it's the synthesised lead lines, the beats or bass, which is obviously a pretty remarkable feat these days! Also essential to this Sequential is the emotive saxophone, provided by the overly able Simon Taylor, together with the 80s-style vox. Here Omid gets busy on vocal duties himself, recording layered Heaven 17-esque harmonies, alongside the mighty Loui Smith and Luke Armstrong. (This actually brings Omid full circle as he used to sing and perform in an indie band!) Of the variations available, the Dub Mix and Club Dub strip things down for utmost dancefloor impact, while the swirling Vocal Mix ensures the 'Same As You' message hits home.
 "I came up with the idea to have a few more musicians involved in 'Same As You' when I had some time off touring, so I could make the electronic vibes less stagnant and more spontaneous. I had Simon Taylor from Ritz Music store in Putney, London play sax, and Loui Smith and Luke Armstrong (aka The Duke) plus myself on vocals.
 "On the days of recording we jammed around with ideas and kept it natural and simple, yet moving forward with new harmonies and a better arrangement (the original version was 13 minutes long!).
 "I really enjoyed the way it developed through a space of six months. Kinda sense it has an unusual '80s meets now' feel to it, and even though it went through many changes it almost ended up right back to how it started." Omid 16B
  Next up, the way 'The Move' moves will definitely keep you guessing as to what could happen next and, since it's packed with head-spinning surprises, it's sure to invoke mass hysteria when heard properly on a good system. Arranged to get you deranged, 'The Move' challenges listeners with an exciting mash-up of changing rhythms that are held tightly in place by a funky-ass, live-sounding bassline. An epic flashback advanced by futuristic thinking, 'The Move' arrives in two main flavours: Live Club Dub and Live Vocal Mix, as outlined by Omid, below.
 "I don't really care how long tracks end up, as long as they flow with a bassline, but even I was taking it too far when I ended up with this 30-minute club track ('The Move')! I wanted to include all my favourite elements in a solid club toon and build the track like a mini DJ mix.
 "There are recognisable sounds and grooves you may have heard before, but that's not what this track is about. This track is about how we can move forward yet retain the best things from the past within house music.
 "I've been playing the Dub for a few months and can definitely feel its less serious and more fun approach works on the dancefloor. The Vocal Mix featuring Loui Smith then adds that little spark and lift for your more serious clubbers." Omid 16B
 These two new beauties from the SexOnWax stable are due to hit the streets for Miami WMC, where you're likely to feel them during the SOS gig in Bed, in Miami, Tuesday the 24th of March. So enjoy the trip of Sequential 002, SexOnWax's first release of 2009!